Are Mattresses Advertised at 50% or 75% Off Discounts Really Bargains?
Mattress retailers (both online and off) constantly offer brand name mattresses that are "discounted" by 50% or more.
Mattress retailers routinely use comparative "list" prices. These are double, triple or even quadruple the advertised "Sale prices".
Sales of 50% to 75% off can be difficult to resist.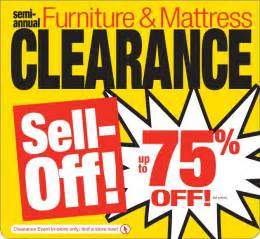 Recently I was looking for a mattress for my home. I examined the specifications of hundreds of these deeply discounted mattresses.
Then I compared them with hundreds of mattresses selling at similar prices with lower discounts or no price reduction at all.
For this comparison I selected innerspring mattresses from Serta, Sealy and Simmons. These were found on more than a dozen different online mattress websites.
I am qualified as a mattress "expert." Once upon a time (long ago) I was the mattress buyer for a major retail furniture chain. Over a 4 year period I purchased nearly $20 million of mattresses.
Mattresses have always been difficult to compare across brands. Comparing one brand with another has always been difficult. Now, comparisons within a single brand are equally impossible.
Each different mattress model has unique specifications. Models that look identical in photos have completely different specs.
Each brand offered dozens (or hundreds) of different models. Models offered by an individual retailer were rarely available from their competitors. This eliminates the possibility of comparing prices on identical mattresses across retailers.
Despite this I was able to identify one universal measurement that enabled me to compare mattresses. Both across brands and within brands.
I compared the weights of the different mattress models.
I looked at approximately 200 different innerspring queen-size mattresses selling for $699 - $999.
Half were being sold at 50% - 80% off . The other half were being sold at full price or discounts less than 50%.
In every case (except one) the queen-size mattresses selling in that price range weighed 80 - 100 lbs -- regardless of the original "list" price.
Mattresses at the lower end of my price range generally weighed 80 lbs - 90 lbs. Mattresses at the top of my price range generally weighed 90 lbs. - 100 lbs..
I subsequently examined several mattresses selling in the $1999 - $2999 price range.
As expected all of these weighed substantially more than the lower priced mattresses, even those with "list" prices of $3999 or more.
There was absolutely no relationship between the "listed" comparison price and the weight of the mattress.
Mattresses listed as $3999 values and selling for $999 weighed approximately the same as mattresses selling for $999 with no discount.
Mattresses listed at $8,999 values selling for $2999 weighed approximately the same as mattresses selling for $2999 with no discount.
Mattresses actually selling for $2999 weighed substantially more than the mattresses that actually sold for $999.
What is the difference between a mattress selling for $999 and one selling for $2999?
According to my best estimate:
$500 for quality improvements
$500 for cosmetic improvements
$1000 extra profit
Update: It has been well over a year since I first published this article.
I had expected at least a few comments from mattress retailers complaining about my blanket conclusion that all deeply discounted mattress sale ads are phony.
Instead, there has not been a single negative response to this article from any mattress retailer or manufacturer.
I have received several comments from bedding professionals confirming the accuracy and methodology of my research.