Can sofas be made repairable, sustainable and recyclable?
Simplicity Sofas has made repairable, sustainable, recyclable furniture in High Point, NC since 2007.
Building repairable, sustainable, recyclable furniture is expensive.
Most manufacturers sell their furniture through retailers. Retailers double the manufacturer's cost before reselling to their customers.
Simplicity Sofas sells direct to consumers. There is no retailer to double the manufacturing costs.
Simplicity Sofas uses an innovative mass customization system to create thousands of different modular items using a small number of common parts.
There are a total of 40 different replaceable, interchangeable components in the entire system, but 80% of the products use the same 15 component parts.
Those 15 interchangeable parts can create thousands of different sofa, loveseat, chair, sleeper and sectional combinations.
Here is an example of a basic sofa. It is made from 6 component parts. These include 2 arms, 1 back, 1 base, cushions and legs.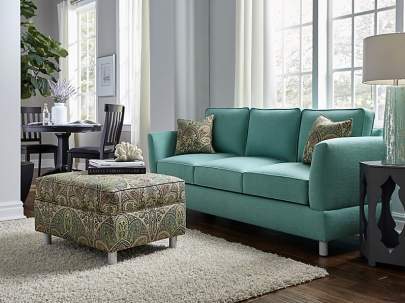 The sofa is shipped unassembled. Assembly takes 15 minutes. No tools are needed.
[Here is a video showing a 7 year old and a 10 year old assembling a sofa in less than 5 minutes.]
The furniture is designed to be assembled, dis-assembled and re-assembled dozens of times with no loss of strength or durability.
Below is another sofa. It uses the identical back, base and cushions. Only the arms and legs are different.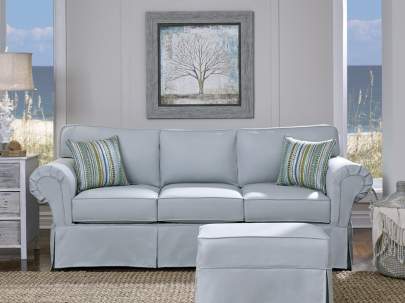 Changing those two frame parts transforms the look of the entire sofa.
The style has been modified from modern to traditional.
The sofa size has increased from 80" - 88".
The sectional shown below is a third combination. The arms and cushions are exactly the same as in the first photo above.
The only things that have changed are the lengths of the backs and bases and the leg style.
The wedge corner piece shown uses an additional 3 component parts that were not used for the sofas.
The bumper ottoman uses an additional 2 component parts.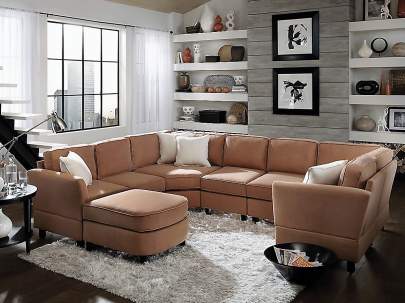 The modular design allows any individual part to be replaced by the customer in a few minutes in their own home.
Cushions are made with extra wide zippers. The inside of the covers are lined with fabric. We also use a fabric covering over our cushion cores.
These inner fabric coverings can't be seen while the furniture is in use. They don't add to the comfort.
But they allow our customers to easily replace cushion covers or cores if they ever become damaged or worn out.
That can extend the lifetime of the furniture by many years at a minimal cost.
Individual arms, backs, bases or legs can also be easily replaced if necessary.
If a fabric becomes worn or damaged and is no longer available, this furniture can be completely recovered with a different fabric.
Most slipcovered furniture is designed so that the slipcover fits over a muslin base fabric. The sofa cannot be used without the cover.
Our tailored slipcovers are designed to fit over the original upholstery.
A worn out fabric can be completely covered over so that the furniture looks brand new again.
The second photo above shows a sofa with slipcover. (We also make identical looking sofas with skirts that are not slipcovered.)
Simplicity Sofas is built to last 20 years and more.
The cushions are made with thick high quality 2.5 density Ultracel foam or Spring down construction.
Most of our customers can get 10 years use from our cushions. Cushion cores (and covers) are easily (and inexpensively) replaceable if they do wear out or become damaged.
The frames are constructed with select grade solid oak lumber. Below is a photo of one of our frames.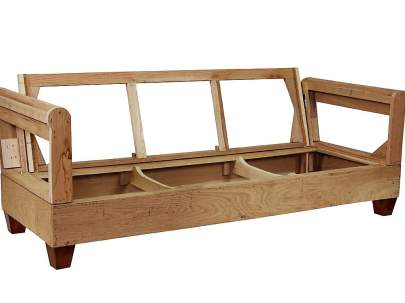 Making furniture this way is expensive. Even if we were using the same quality of materials used in mass produced furniture it would be substantially more expensive.
Modular designs with replaceable parts require more raw materials. They require more labor than needed to build a similar looking conventional sofa.
The additional material and labor costs do not fully address the sustainability factor. Better quality materials and superior craftsmanship are also needed.
That is why solid oak lumber is used instead of plywood.
High quality furniture frames are typically made with #2 grade lumber.
#2 lumber is allowed to have splits, knotholes, warping and other defects. Those defects are what lead to frame problems over the long run.
#1 common lumber has fewer of these potential problems.
Select grade should have almost no defects. Select grade costs twice as much per board foot as #2.
Simplicity Sofas uses "select" grade lumber.
Normally select grade is used only for exposed wood. It is never used for frames that cannot be seen.
That additional cost is wasted in most furniture. You don't need a frame that can last 50 years if the cushions or fabric only last 3 years.
Standard quality cushions, fabric, foam etc. will not last long enough to take advantage of top quality frames.
That means the quality of all of those parts must be upgraded as well.
The lifespan of a sofa made with the best quality materials is often limited to the failure of the most fragile part of that sofa.
Repairs and replacement of a sofa's parts can be prohibitively expensive. Often it costs as much as buying a new one.
Simplicity Sofas furniture is designed so that all parts can be easily and inexpensively replaced.
It is repairable, sustainable and recyclable.
Furniture made this way would be prohibitively expensive if sold through retailers.
Retail prices are typically double the manufacturing cost.
For example when Restoration Hardware sells a sofa for $2000 they are purchasing that sofa from a manufacturer for about $1000.
The manufacturer's cost to make that sofa is around $750 with another $250 added for profit.
Simplicity Sofas bypasses retailers and sells directly to consumers through its online website www.simplicitysofas.com.
This allows Simplicity Sofas to spend twice as much on its manufacturing costs and still sell for the same price as Restoration Hardware's sofa that cost half as much to make.
Here is one more sofa look. This uses the same exact components as the sofas shown above. Only the arms are different.
The solid oak frame in this leather sofa is identical to the one shown above.