Furniture: Are most mattresses sold in the U.S. made in China?
Disclosure — I spent 6 years as a mattress buyer for a large furniture retail chain early in my career. During that period I purchased at least $25 million of mattresses.
The vast majority of mattresses sold in the U.S. are made in the U.S.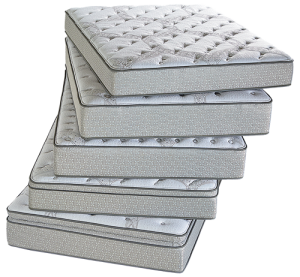 Bedding retailers prefer to buy smaller quantities from local suppliers (usually within an hour's drive but sometimes up to a few hundred miles) who can get the mattresses to them within a week or less after the order has been placed.
There are several reasons for this but the biggest reason is related to inventory control and turnover.
The longer the time period that a buyer has to project sales into the future, the less accurate he (or she) will be at correctly forecasting the rate of sale.
Projecting mattress sales for a one week period is far more accurate than projecting for even a month ahead. It results in far fewer slow moving items and out-of-stock situations for the best sellers. It also requires far less warehousing space and ties up far fewer inventory dollars.
The flexibility that retail buyers have in being able to purchase and receive mattresses on a weekly basis allows them to offer a larger selection of brands and models without making any major financial commitments.
Bringing in full container loads of mattresses from multiple manufacturers is an extremely expensive (and risky) purchasing decision, even when there is a substantial price discount.