How good is a Flexsteel sofa?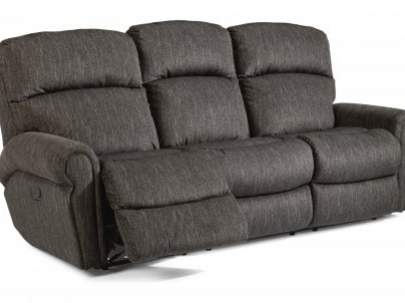 Flexsteel is an American manufacturer that has been producing mid-priced upholstered seating for more than 100 years.
The company has multiple U.S. factories. Flexsteel's Latitudes line is manufactured in China.
Retail salespeople do not always do a good job of distinguishing between U.S. made Flexsteel furniture and the imported Latitude models.
There are a large number of customer complaints that can be found through a Google search.
Latitudes seems to account for a disproportionate share of the total complaints. But it is not the only thing to watch out for.
It is my impression that most customer complaints and problems involve three specific areas:
1) Bonded leather fabrics (This includes Flexsteel's Nuvo leather fabrics.)
2) Large reclining furniture (individual recliners seem to have fewer problems and are easier to repair.)
3) The Made in China Latitudes line.
If you can avoid these three problem areas there is a good chance you will be very happy with your Flexsteel furniture.
The three problem areas cited above are not just for Flexsteel. They apply to most low and mid-priced mass produced upholstered furniture.
Bonded leather fabrics account for a huge percentage of complaints throughout the furniture industry.
The bonded leather problem is particularly acute with reclining furniture.
Lots of motion furniture is purchased with bonded leather fabrics.
Bonded leather is a weak material. It does not have the durability of genuine leather made from hides.
For more information about bonded leathers check out my article What are the Pros and Cons of Bonded Leather Furniture?.
When you combine flimsy bonded leather with reclining furniture you multiply your chances of potential problems.
The extra movement that occurs on reclining furniture adds additional strain to an already fragile material.
Large reclining sofas and sectionals are extremely heavy. They put a lot of strain on the furniture's frame. Stationary sofa frames get far less abuse from normal use.
Mechanisms can be pushed out of alignment. This frequently happens during shipping. Heavy use or moving furniture within the home can also cause mechanism malfunctions.
Flexsteel's quality compares favorably with other similarly priced motion furniture manufacturers. But you can expect a higher rate of problems with this furniture category.
In general upholstered furniture does not last as long as it did 15 or 20 years ago.
Over the past 10 years furniture manufacturing has become extremely competitive.
Most small and mid-size retailers have already closed down or sold out to the large chains.
The large retail chains encourage cut throat competition. Relatively few manufacturers are large enough to supply the bigger chains.
Buyers for these large retailers hold enormous power. In many cases they can dictate the price they are willing to pay for a particular model.
It is up to the manufacturer to meet that price. The buyer specifies how the product must look and feel.
Sometimes the only way to meet those demands is by shaving costs in places that are not visible.
Lowering labor costs has also become a vital competitive strategy.
Cheaper foam will last long enough to satisfy the warranty.
Plywood frames have mostly replaced solid hardwood.
Tight, non-removable cushions reduce the cost of fabric.
Styles have become simplified. Fabrics are now cut by computer and pre-sewn into covers that are "socked on" to each part of the sofa.
This allows lower skilled upholsterers to work faster and increase productivity. It also limits the style and design options.
Highly skilled frame makers and upholsterers can create a wide range of complex and beautiful designs that are not possible for the mass producers.
Customers frequently complain that all furniture looks the same. This is a major reason.
A recent survey of consumers planning to buy sofas has indicated that most people now expect their sofas to last only 3-5 years.
15 years ago a similar survey indicated that sofas were expected to last 7 - 10 years.
Flexsteel pays more attention to the internal quality of its furniture than many of its competitors.
The blue steel spring foundation gave the company its name more than 100 years ago. It is very comfortable and may be the strongest, longest lasting spring foundation ever made.*
* In a 1980s government contract dispute, a federal court ruled that Flexsteel's blue steel spring foundation was "as good or better" than Drexel-Heritage's 8 way hand tied foundation.
The blue steel spring is far more costly than the standard sinuous wire springs found in most competitively priced furniture.
At one time the Latitudes line did not include the blue steel spring. Flexsteel has updated the imported products to include the Blue Steel Spring.
It is easy to tell whether your Latitude furniture includes the blue steel spring. Turn the piece over to see the bottom.
If there is no fabric dust cover you will be able to see the wide blue steel spring. If there is a dust cover hiding the sofa's insides the blue spring is not there.
The Latitude line still seems to have a higher rate of complaints than domestically made Flexsteel furniture.
Flexsteel sells a lot of genuine leather. They have multiple grades which vary widely in price and quality.
Flexsteel is also one of the largest manufacturers of sofas and sleepers for RVs and other recreational vehicles.
Most of this RV furniture is manufactured in the U.S.
In general RV furniture has a lower level of quality than similarly priced furniture found in stores.
One reason for this is the added dealer installation costs. Another is that there are very few manufacturers making RV furniture. And it is usually available only through a limited number of RV dealers.
Flexsteel's quality is generally considered to be at the upper end of the RV furniture marketplace.
Since I first published this article I have heard from many Flexsteel customers.
Many of them have owned their Flexsteel furniture for 10 years or more. These long-term customers are very satisfied.
Additional Note - Flexsteel was one of my clients from 1984 - 1989. During that period I sold approximately $15 million of Flexsteel furniture to the U.S. military and various government agencies.