Is Leather Match the same as Bonded Leather?
Leather match and Bonded leather are two very different types of products.
Leather match uses "genuine" leather made from hides on the seats, inside backs and inside arms.
A matched vinyl is then used for the outside backs, outside arms and base.
The hides used are the lowest quality top grain leathers.
These hides are sanded down to completely remove all flaws. The sanding also removes the natural grain pattern.
The hide is then dyed and an artificial grain, that matches the vinyl, is embossed into the hide.
The artificial grain is protected with a clear polyurethane coat. This does offer protection against minor scratches, but major scratches that go all the way through the coating may be impossible to repair.
The real leather is sewed onto the vinyl. Although the match will be perfect when new, over time the different materials may age differently.

After several years the colors may no longer be a perfect match.
Also, the leather and vinyl may stretch or shrink at different rates. This can cause seam slippage where the two different materials are sewed together.
Using leather for only half the sofa can substantially reduce the retail price as compared with a sofa that is 100% leather.
Bonded leather is an abortion of a product that should be banned.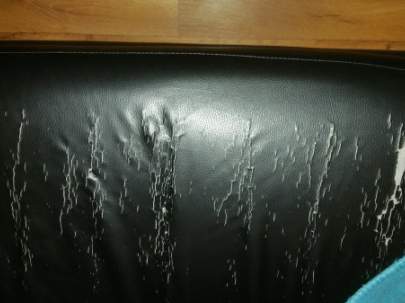 The only reason for bonded leather's existence is to fool unknowledgeable consumers into thinking they are buying genuine leather furniture at low prices.
Technically furniture retailers can make the claim that bonded leather is made with 10% - 20% "genuine" leather.
What the salespeople do not tell their customers is that this "genuine" leather consists of leftover scraps from hides that are crushed into tiny particles, mixed with glue and other chemicals and then rolled flat.
This reconstituted "leather" is then used as the backing for vinyl or polyurethane. The "leather" part of this fabric cannot be seen or touched by customers.
Customers who purchase bonded leather furniture think that they are purchasing a very durable fabric. That is not the case.
This is a very delicate material that may literally fall apart under normal use within 1-3 years after purchase.
Furniture warranties are written with specific exclusions for "fabric wear."
Even extended warranties, which customers purchase thinking that they cover everything that can go wrong, will not cover fabric problems in most cases.
There are thousands of complaints and dozens of law suits about "peeling" bonded leather furniture.
For consumers who are looking for lower priced furniture that looks and feels similar to genuine leather there are excellent faux leathers made from polyurethane or vinyl which will last 10+ years.
These faux leathers are far more durable than the bonded leathers. They also are generally more comfortable and cost less.
Beginning in 2020, some major retailers have started switching from bonded leathers to new lower cost 100% synthetic faux leathers made from a combination of polyester and polyurethane.
Although it is too soon to determine how well these new combination faux leathers will hold up over the long term, there is a high probability it will be much better than bonded leather.