What are the average dimensions for a small sectional?
Searching for "small sectionals" can be a very frustrating experience.
The vast majority of "small sectional" photos show very large pieces of furniture. Many (or most) of those photos don't list any dimensions at all.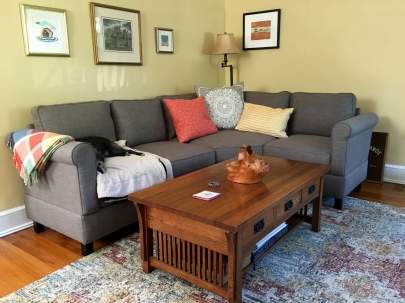 Searching for "large sectionals" or just "sectionals" will all result in pretty much the same listings as "small sectionals."
Another confusion exists in the definition of "sectional." Some furniture retailers describe the furniture shown below as a "sectional" while others would designate it as a sofa and chaise.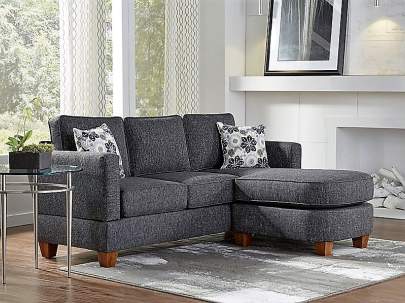 The most common dimensions for sofa/chaise type sectionals would include lengths of 78" - 88" for a three seat version.
The depth from the back of the sofa to the front of the seat cushion is most typically 37" - 40" and the total depth from the back of the sofa to the front of the chaise cushion is 68" - 72"
Another common sectional configuration consists of equal length left and right sections.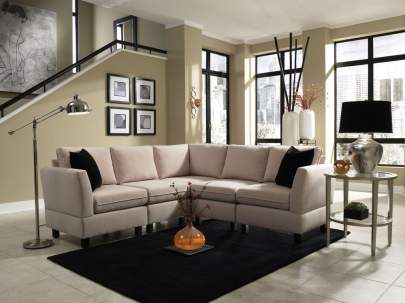 The 5 seat sectional shown here measures 85" x 85" with a depth of 32". This is possibly the smallest 5 seat sectional currently available.
Typically the most common sizes for a 5 seat sectional configuration with equal sides is 95" x 95" or 98" x 98" with depths of 36" - 40".
Of course there are many other possible configurations and sizes. For example:
The Simplicity Sofas sectional shown below consists of 7 individual seat units plus a chaise. As shown the dimensions are 95" x 118" x 59".
Additional sectional configurations can be seen by clicking here..
The sectionals shown above are modular in nature with each seat being an individual unit. This makes it possible to make each side as long or short as needed and the furniture is ambidextrous (either side can be longer and the longer side can be reversed when needed.)
For example here is another sectional made with the same modular seat units as all of the sectionals shown above.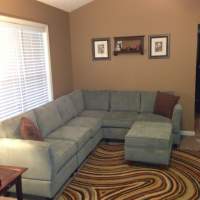 It is far more common for sectionals to have 2 seat or 3 seat units that are joined together to form a sectional. It is less expensive to make furniture with multiple seats in a single unit than to have each seat as an individual unit; however the two different length sides cannot be reversed.
All of the Simplicity Sofas sectionals shown above are designed to fit through 15" wide doors or stairways (less than half the width of a standard doorway.)