What is the difference between faux leather and bonded leather?
BLOG UPDATE - Jeff Frank retired from Simplicity Sofas March 20, 2022 to work full time on his new informational blog. Check out Jeff's new blog, [INSIDERSGUIDETOFURNITURE.COM
[The Insider's Guide to Furniture blog contains over 500 articles, including new articles published after March, 2022 and updates of articles in this blog.]
Faux leathers are synthetic materials that mimic the look and feel of genuine leather at far lower prices.

The most common faux leathers currently are polyurethane and polyvinyl chloride (better known as vinyl.) There are also some polyester microfibers available which mimic the look and feel of leather.
All three of these types of faux leathers are extremely durable and stain-resistant.
100% polyurethanes are generally softer and closer to the actual look and feel of real leather than the vinyls. As a result polyurethane faux leathers are growing in popularity for residential furniture buyers.
Vinyl fabrics have become far less popular for residential furniture. Higher cost vinyls are still widely used for commercial and institutional use where durability is the most important factor.
Microfiber faux leathers are far back in popularity, primarily because they do not mimic the look and feel of real leather as closely as the other two.
Recently, a new classification of faux leather, combining polyurethane, vinyl and polyester has become available.

This new type of faux leather is less costly, but it is still to early to tell whether its durability will hold up over the long term.
"Bonded leather" is generally classified as a type of faux leather. It is an inferior flimsy product.
Bonded leather's primary purpose is to fool uneducated consumers into believing they are buying genuine leather furniture (or something similar) at a cheap price.
Bonded leather has no advantages for consumers.
Bonded leather is not even significantly less expensive than the alternative (more durable) faux leathers.
The term "bonded leather" is still widely used for office furniture.
Residential furniture companies often try to hide its existence by substituting brand names such as Nuvo Leather, Renew Leather, LeatherSoft etc. to disguise its use.
Sellers of small personal items such as purses, belts, wallets etc. are even more deceptive.
The term "genuine leather" is almost universally used as a substitute for "bonded leather" for accessory items. (This is why the "leather" on lower cost accessories now peels after a few months.)

So far, the furniture industry still uses the term "genuine leather" to describe "real" leather made from hides. This may change in the future.
My company sells both genuine top grain leather and 100% polyurethane faux leathers.
Our experience is that 50% of the customers who contact us looking for leather furniture do not know the difference between genuine leather made from hides and "bonded leather."
Nobody should buy "leather" furniture unless they understand the difference.
"Bonded leathers" are typically made of thin layers of vinyls or polyurethanes that are "bonded" (glued) to a backing consisting of anywhere from 10% to 20% "genuine" recycled leather hide scraps. These scraps have been chopped into tiny pieces, mixed with adhesives and rolled flat.
The face of the bonded leather fabric is 100% vinyl or polyurethane. You do not see or feel any of the "genuine" leather part of a bonded leather fabric.
The biggest problem is that chopped up leather particles make a very poor backing material. The surface material frequently begins to "peel" away from the backing after only a few years or even a few months.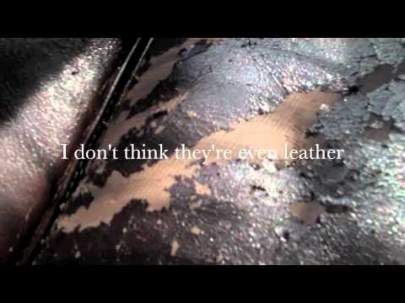 If you purchase bonded leather furniture which begins to peel, retailers will usually do absolutely nothing for you.
This type of problem is specifically excluded from both retailer and manufacturer warranties, unless you are fortunate enough to have your furniture begin to peel in less than one year.
Extended warranties never cover damage from peeling bonded leather (or almost any other fabric related problems.) Click on this article for more information about extended warranties.
At that point all you can do is sue the retailer. There have been many lawsuits regarding bonded leathers that began to peel after a short period of time. Consumers rarely win these cases.
For example take a look at this NBC video and article. This is an interview with the CEO of a major (and highly reputable) furniture retail chain who is asked about bonded leather in response to multiple customer complaints .
At one point, when the CEO is asked about whether the peeling may be caused by customer abuse of the furniture he replies, "I'm not saying they [the customers] did something wrong, what I'm saying is that it's delicate."
Most consumers purchase leather furniture because they believe it will be extremely durable.
I can virtually guarantee that none of these consumers were ever warned by their salespeople that "bonded" leather was a "delicate" material.
Another important note was also brought up in this interview — Extended warranties that customers think are protecting them for "everything" do not.
A recent editorial in Furniture Today, the leading trade publication for the furniture industry, discussed the many problems associated with bonded leather.
The author of the article proposed that maybe it was time for bonded leather to be voluntarily banned by retailers and manufacturers throughout the furniture industry.
The use of the term "leather" to describe bonded leather products is already banned by law in some other nations.