What is the quality of Ashley Furniture? Are Ashley Homestores a good place to shop?
BLOG UPDATE - Jeff Frank retired from Simplicity Sofas March 20, 2022 to work full time on his new informational blog. Check out Jeff's new blog, [INSIDERSGUIDETOFURNITURE.COM
[The Insider's Guide to Furniture blog contains over 500 articles, including new articles published after March, 2022 and updates of articles in this blog.]
Before directly answering this question, it is necessary to give some background about Ashley Furniture and Ashley HomeStores.
Ashley Furniture is one of the world's largest furniture companies. It is also the 88th largest privately owned U.S. company.
Ashley manufactures living room, dining room, bedroom, entertainment, home office furniture and other home furnishings in the USA and internationally.
Manufacturing and distribution facilities are located in Wisconsin, Mississippi, Pennsylvania, North Carolina, Florida, Vietnam and China.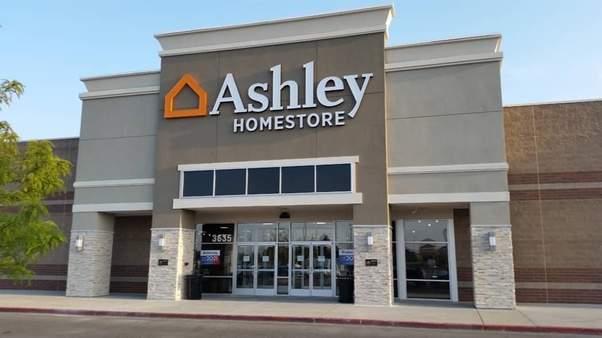 Since the 1980s China has been a major source for Ashley's furniture.
The company was one of the first to recognize China's potential as a source for low cost furniture that could be imported into the U.S.
Over the past decade Ashley has been gradually moving its production away from China to other Asian (and U.S.)locations.
The company reports that less than 10% of total production currently originates in China.
Ashley licenses its name to Ashley HomeStores located throughout North America. Ashley Furniture HomeStores has 658 stores in the USA with annual sales of $4.58 billion as of 2018.
Ashley Furniture HomeStores are independently owned by licensees. It has been the single largest U.S. furniture retailer for the past 13 consecutive years.
Ashley Furniture (the manufacturer) also sells its products through hundreds of other furniture retailers located in the USA and worldwide.
Since Ashley Furniture HomeStores are owned by multiple independent licensees, there may be substantial differences between the stores.
These differences can range from the selection of products displayed to the level of customer service experienced.
The best way to determine what can be expected at any specific local Ashley store is to check with Yelp.com. This independent review site should have a substantial number of reviews listed for each store.
Unlike reviews found on retailer websites, Yelp reviews cannot be delisted, modified or hidden if they are not approved by the store.
Another good independent review site covering Ashley nationwide is ConsumerAffairs.com.
This review site includes thousands of reviews about Ashley Furniture products, including those sold by independent retailers who have no connection with Ashley Furniture HomeStores.
Ashley's furniture products often appear to be designed with the idea that their customers prefer big, plush furniture that looks like a tremendous value at the lowest possible price.
Achieving this big value look while cutting costs, can lead to skimping on the quality of materials used internally, where they cannot be seen.
This is particularly true for upholstered furniture and even more particularly for reclining furniture.
Over the past 15 years there has been a dramatic decrease in the quality and expected lifespan of mid-priced upholstered furniture throughout the industry.
This affects almost all of the largest manufacturers, including venerable brands that have existed for 50 years and more.
Ashley's success at selling furniture that looks great (when new) at low prices has forced its major competitors to also cut costs (and quality) in an effort to compete.
There has not been a similar decline in quality for mid-price-range mass produced wood furniture.
Advanced manufacturing technology has enabled the industry to produce better quality wood furniture products while holding prices.
The tradeoff is that these technological advances have been made primarily overseas where government/private partnerships have made huge long term investments to modernize factories.
In the U.S. large scale manufacturing of wood furniture is almost extinct. Almost 90% of wood furniture sold in the U.S. now comes from overseas.
One rare exception to this trend is Vaughn Bassett, located in Galax, Virgina, which has been making moderately priced bedroom furniture, using solid woods and veneers, since 1919.
The top 100 furniture retailers currently control 78% of total U.S. furniture sales. The top 50 retailers control almost 50% of sales nationwide.
This is very different from the situation 40 years ago when the Top 100 furniture retailers accounted for less than 10% of total sales.
Large furniture manufacturers, who once survived by selling to thousands of small and mid-size retailers, are now forced to compete for limited floor space in a small number of mega-retailers.
Study after study has shown that the primary concern of consumers who purchase furniture today, is price.
As a result, the buyers for the mega furniture retailers are also concerned primarily with price.
In many cases these buyers have the power to dictate the prices they are willing to pay to their major suppliers. It is then up to the manufacturers to figure out how to cut costs to meet those price requirements.
Getting back to the primary question: Is Ashley Furniture HomeStores a great place to buy furniture?
Ashley's HomeStores are exciting places to shop. They are carefully laid out and filled with accessories that glamorize the furniture being shown.
Prices are highly competitive and the furniture looks great on the showroom floor.
Before buying any expensive consumer product it is always a good idea to do your due diligence research.
Start by Googling the name of the retailer and furniture brand and searching for "reviews and complaints."
Historical note:
I was a buyer for a major furniture retail chain in the late 1970s. Ashley furniture was one of the companies I bought from.
At that time Ashley was a small manufacturer in Arcadia, Wisconsin that primarily made and sold bookcases and occasional tables.
Ashley's current owner, Ron Wanek, was also the owner back then.
Being familiar with the company, I have been astonished over the years at the growth of this company and the major effect it has had on the entire furniture industry worldwide.
I had no clue at that time that this tiny Ashley Furniture company was already planning to take over the world (of furniture.)
Personal anecdote:
At furniture market time, I would visit the small Ashley showroom to pick out the new occasional table lineup. Often I would be accompanied by the owner of my company.
While I did my work, he would sit at a table and trade stories and jokes with Sam Ashley, who we both assumed was the owner of Ashley Furniture.
It wasn't until years later, after Sam's death, that we discovered Sam Ashley was actually the west coast sales representative who just happened to have the same name as the company.