Who Invented Self-Assembly Furniture?
According to popular legend, Ready to Assemble Furniture (also known as RTA, Flatpack and Knockdown) was invented in 1951 by Gillis Lundgren for a small start-up furniture company called IKEA.
The official story is that Lundgren created the revolutionary self-assembly concept when, after a photo shoot for the Ikea catalogue in 1951, he removed the legs of a table so it could fit into a car.
Actually,someone had come up with the idea more than 250 years earlier.
The RTA table shown in the photo below is the earliest known example of Ready to Assemble furniture.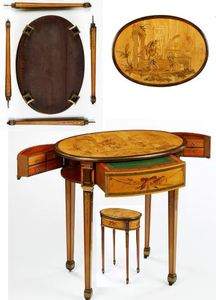 David Roentgen was born in Germany in 1743. He is acknowledged as one of the greatest German cabinet makers of the 18th century.
Roentgen was a mechanical genius. His furniture featured an amazing array of innovations, inventions and ingenious mechanical mechanisms.
Turn a key and doors fling open featuring hidden drawers and concealed secret compartments.
Roentgen's workshop was in Germany. His customers were European and Russian royalty who rarely left their palaces.
Selling his exotic furniture required extensive traveling.
At some point he recognized that more furniture could be fit onto the van if it was able to come apart.
In response Roentgen designed a table that had legs which could be removed for better transportation - the first Ready to Assemble furniture.
Of course merely inventing the first table with removable legs was not innovative enough.
The removal mechanisms and connection points was cleverly hidden so that they could not be seen. No Allen wrenches were required.
Below is another piece by David Roentgen.
It is not RTA but does showcase the mechanical innovation that would allow him to design the first furniture that could be shipped unassembled.
Here is an amazing desk designed by David Roentgen.
Watch the 2 minute video to fully appreciate the artistic and mechanical genius that created this piece.