Why Are There So Many Mattress Stores When People Buy Them So Infrequently?
On average mattresses last 8 - 10 years before replacement.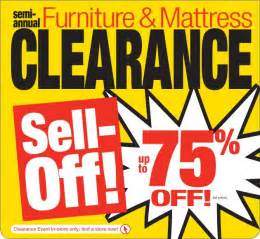 That may seem to be infrequent. But what you may not be considering is that almost every person in each home needs their own mattress.
Take a family of 4 - two parents and two children. That is three mattresses. Add another mattress (or two) for occasional guests.
Additional kids, live-in relatives or renters all need their own mattresses.
Compare that with how many refrigerators or washing machines can be found in each household.
From a very simplistic view, it would make sense if there were 4 or more mattress stores for each one that sells refrigerators.
Now, let's look at this from the viewpoint of the retailer. Online mattress sales are growing rapidly. Stores that sell mattresses generally fall into two major categories:
• Large retail chains that own or franchise dozens or hundreds of small individual mattress stores.
• Mattress departments in larger furniture or department stores.
Regional chains with several stores in a single metropolitan area used to be common. Most of those have been gobbled up by the national chains.

Small independent mattress retailers with a single store are almost extinct.
The smaller stores are usually located in low rent strip malls. They are relatively inexpensive to staff and operate.
Salespeople are usually paid on commission. Also there is usually a bonus system.
Stores pay their salespeople extra to steer customers towards more profitable in-house brands.

Major mattress brands may offer financial incentives for sales of top of the line models.
Acessory and extended warranty sales may also result in bonuses to the sales staff.

In the larger stores, mattress departments rarely take up more than 5% of total floor space.
Marketing studies have shown that mattresses should be advertised separately. Including mattresses as a small part of a large store ad is far less effective than ads featuring mattresses.
Huge mattress retailers advertise heavily to bring in new customers. Advertising costs are significantly reduced when spread among large numbers of stores.
Marketing studies have shown that large furniture and department stores
Advertising costs are determined primarily by location. Regional marketing costs will be roughly the same for a single large location or two dozen smaller stores.
Costs and financial risks are further reduced when the multiple stores are franchisees.
50 - 100 years ago large department stores were the #1 destination for consumers looking to buy mattresses.
That is no longer the case, although a few such as Macy's and Sears (for now) are still among the biggest bedding sellers.
Over the past few years, online mattress sales have increased dramatically. Retailers and direct-to-consumer mattress manufacturers are both benefitting from this trend.
10 or 20 years from now, it is very possible that online mattress sales will surpass those made through brick and mortar retail stores.
There is one more important factor for a complete answer to your question.
Mattress Firm, the largest U.S. mattress retailer filed for bankruptcy in August 2018. This company operated over 3500 retail locations (both owned and franchised.)
One of the reasons cited in the bankruptcy filing was "too many retail outlets and franchises."