Why Can't Sofas be made Repairable, Renewable and Sustainable?
Simplicity Sofas furniture is designed to be repairable, renewable and sustainable.
Thousands of different sofas, chairs, sleepers and sectionals can be created using a total of only 40 interchangeable replaceable component parts.
These parts consist of individual arms, backs, bases, legs and cushions.
Every part is removable and replaceable.
80% of Simplicity Sofas' sales use only 24 of these interchangeable component parts.
These 24 parts (5 arms, 7 backs, 7 bases, 3 cushions, 2 legs) can be combined to make hundreds of different sofa, loveseat, chair, sleeper and sectional combinations.
Each of these pieces is available in a selection of 200+ different custom fabrics.
The first picture shown here is an example of a green Simplicity modern style Lorelei sofa with a flared arm and cylindrical metal legs.
It is assembled from 6 different component parts: a right arm, left arm, back, base, cushion and legs.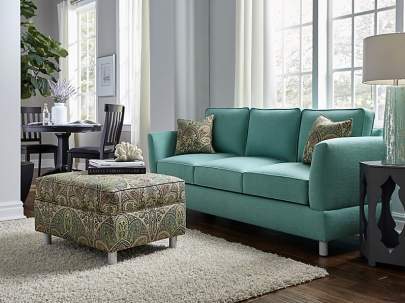 The sofa is shipped unassembled. Assembly takes 15 minutes. No tools are needed.
[This video shows a 7 year old and a 10 year old assembling a Simplicity sofa in less than 5 minutes.]
The furniture can be assembled, dis-assembled and re-assembled dozens of times with no loss of strength or durability.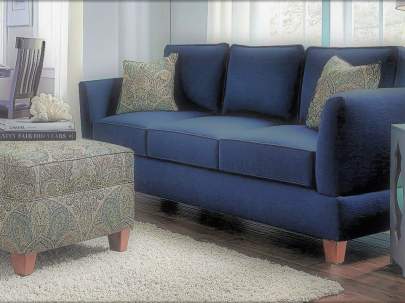 The blue Lorelei sofa shown here substitutes tapered oak legs for the cylindrical metal leg shown above.
This transforms the Lorelei from contemporary to transitional styling.
Substituting the optional mahogany bun legs (not shown) shifts the style to traditional.
Below is the Simplicity Ashton sofa.
This classic traditional roll arm look uses most of the same components as the Lorelei sofas shown above.
Only the arms and legs are different.
The back, base and cushion component parts are identical to those shown in the modern and transitional green and blue sofas.
A skirt hides the legs, but this sofa style would usually be purchased with traditional mahogany bun legs.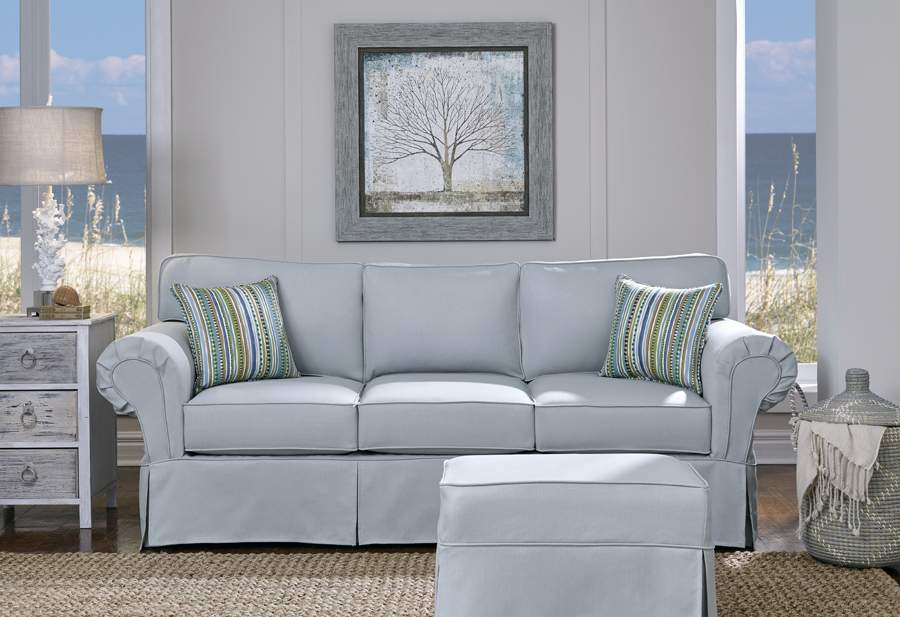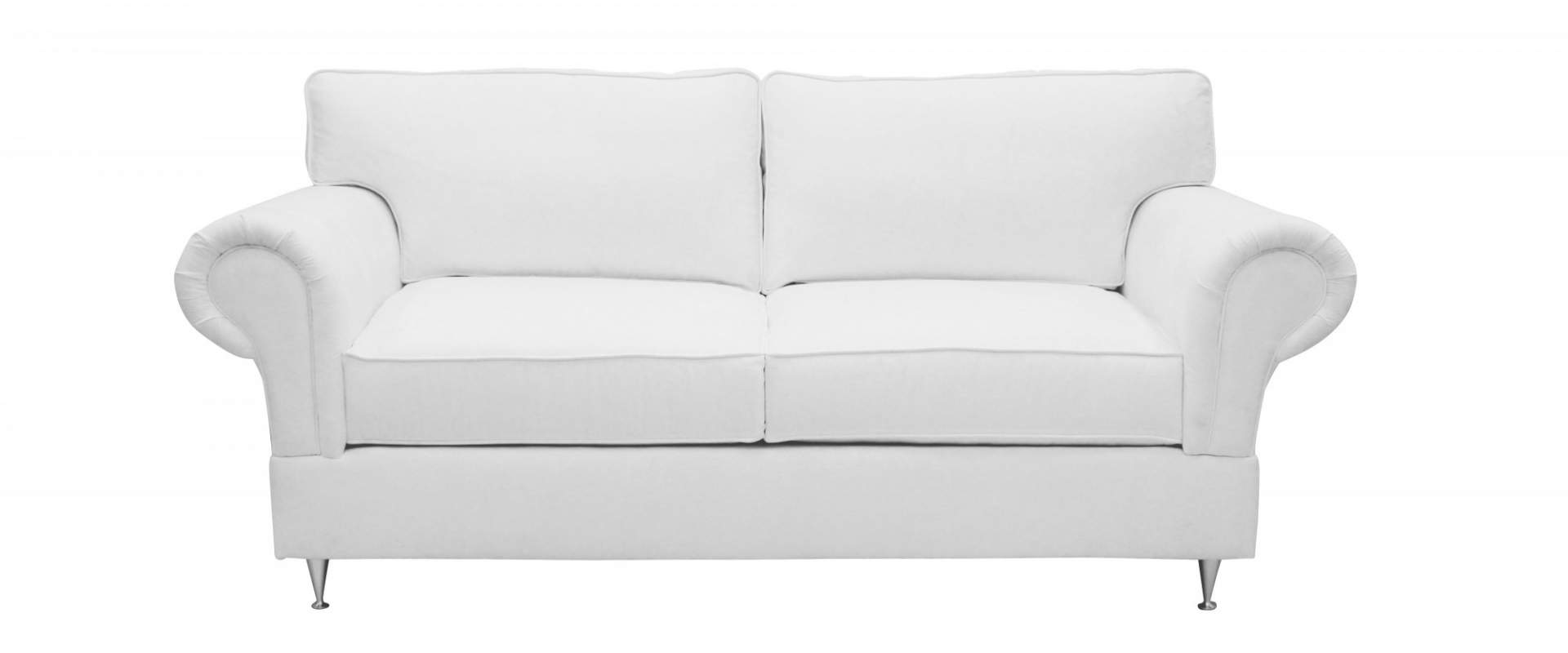 Changing those two frame parts transforms the look of the entire sofa.
The style has been modified from modern to traditional.
The sofa length has increased from 80" - 88".
Substitute a tapered metal leg for a retro look.
The sectional shown below is another possible combination of the interchangeable component system.
The arms and cushions used on this sectional are exactly the same as in the green sofa pictured above.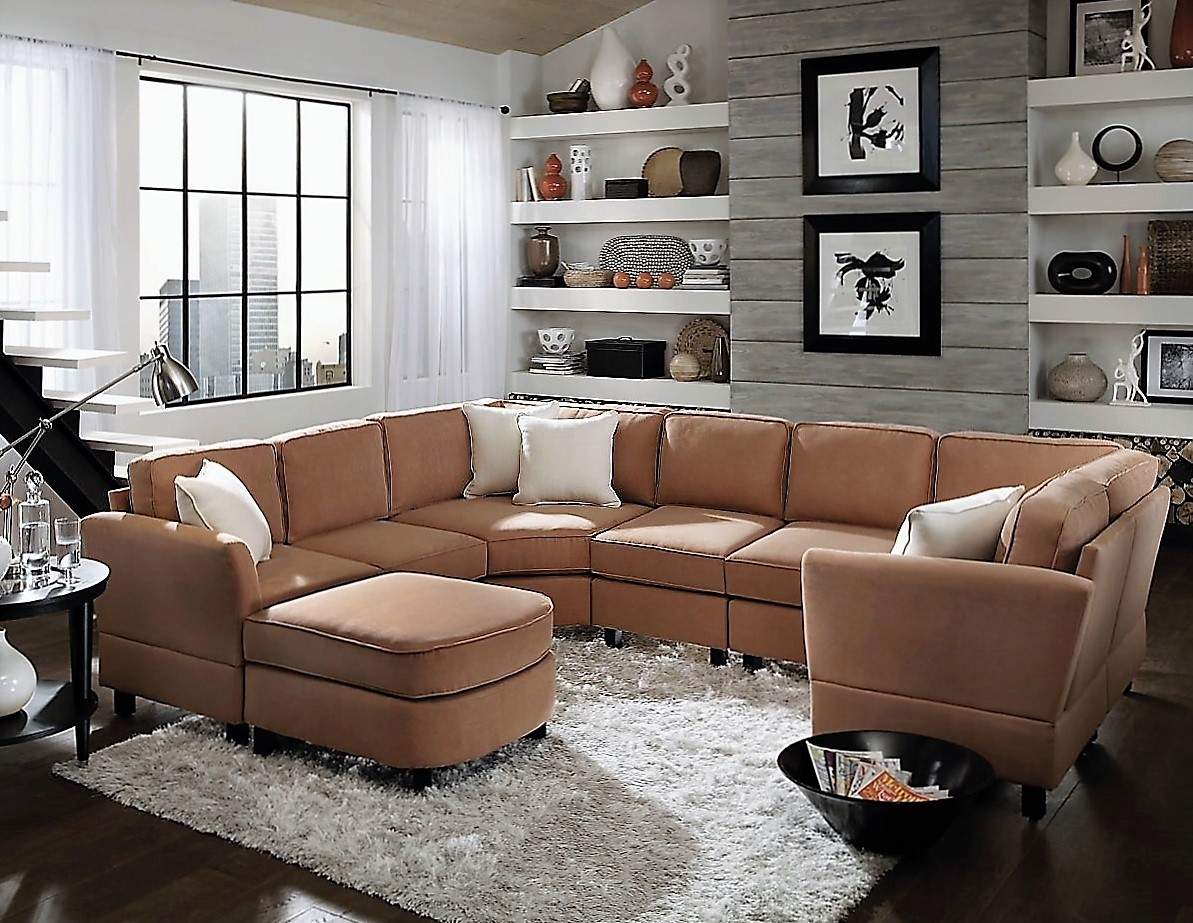 The sofa back and base component parts have been replaced by smaller sectional base and back components.
There are two new pieces.
The wedge corner piece shown uses an additional 4 component parts that were not used for the sofas.
The bumper ottoman uses an additional 2 component parts.
Individual arms, backs, bases, legs, cushion covers and cushion cores can all be replaced in less than 5 minutes. No tools needed.
Making furniture parts that are quickly and easily replaced in the home requires special design considerations.
Replacement parts must be readily available and shipped quickly from the factory direct to the customer's home.
Because all styles and sizes are part of a single unitized design, no parts are ever discontinued or unavailable. (Fabrics are a special case and are addressed at the bottom of this section.)
Cushions are the single part that most commonly needs replacement. Covers must be easy to remove and replace. Cushion cores must slip easily into the covers.

Extra wide heavy duty zippers go all the way across the cushion back and halfway up the sides.
Fabric lined cushion cores and covers allow replacement inserts to slide easily and fill in corners without the need for a professional cushion stuffer.

Individual arms, backs, bases and legs must be securely attached, but easily removable for replacement.

Hand tightened fastening hardware allows the furniture to be quickly assembled, dis-assembled and re-assembled dozens of times with no loss of strength or durability.

Worn or damaged fabrics can be quickly and easily replaced for individual parts or entire pieces.

For available fabrics, individual parts can be upholstered at the factory and shipped to the customer.
When fabrics are discontinued or not available, the entire piece can be easily and inexpensively recovered in a new fabric.
Tailored, fitted slipcovers are available for all Simplicity Sofas furniture.
These slipcovers are designed to fit over the original upholstery.
Worn out, stained or damaged fabrics are completely covered over so that the furniture looks brand new again.
Homeowners can extend the life of their furniture by alternating two completely different looks (with and without slipcover) for changing seasons.
The third photo above shows a fully upholstered sofa covered with a skirted slipcover.
Slipcovered sofas without skirts are also available.
Simplicity Sofas furniture is designed for long term sustainable use.
Frames are constructed with select grade solid oak lumber. See photo below.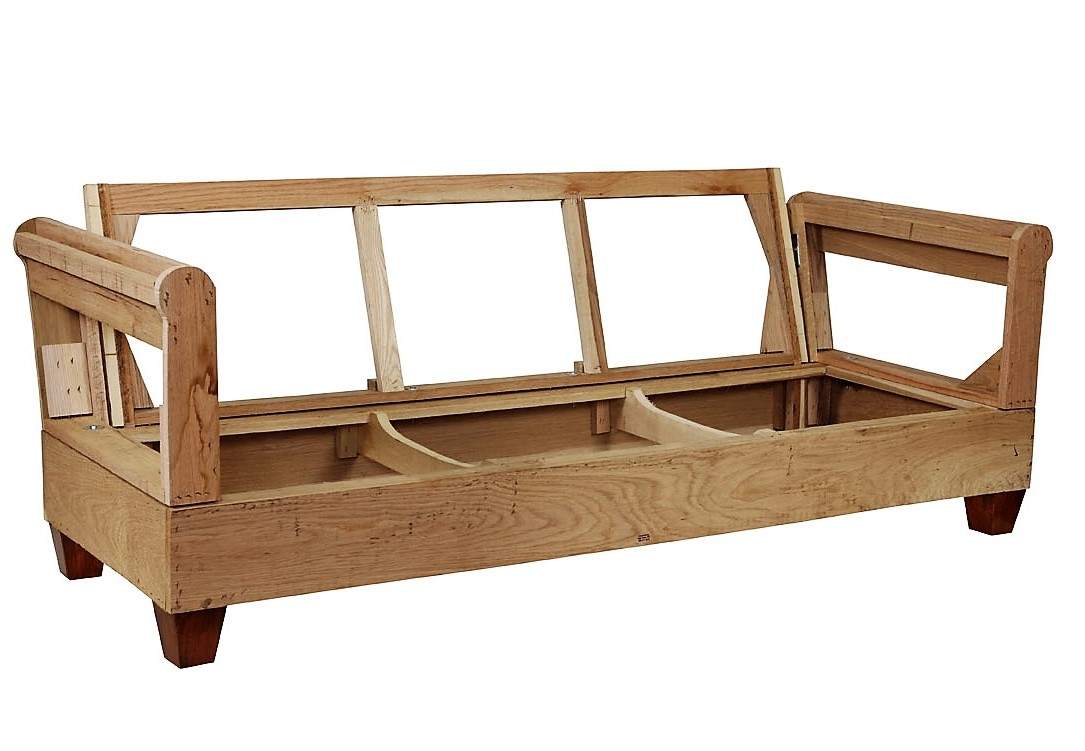 Select is the highest lumber grade. It has almost no defects. This eliminates the cracks, splits and knotholes that can cause frame problems over the long term.
Select grade costs twice as much per board foot as #2 common lumber which is usually used for sofa frames.
This additional cost is wasted in most furniture. You don't need a frame that can last 50 years if the cushions or fabric are only going to hold up for 3 - 5 years.
Simplicity Sofas' concept was to create furniture that started off with the best quality materials and workmanship - and then make that furniture renewable and repairable - so that it can continue to look and feel brand new indefinitely.
Standard quality cushions, fabric and foam used by most mid-priced furniture manufacturers typically lasts for 5 years or less.
Top quality materials and workmanship can double or triple that lifespan.
The lifespan of a sofa made with even the best quality materials and workmanship, however, is still limited to the failure of the most fragile part of that sofa.
Kids, pets, accidents and unseen defects can also shorten a sofa's lifespan.
Wouldn't it be nice to have furniture that doesn't need to be thrown away (or repaired at great expense)the first time one part of it breaks, wears out or becomes damaged?
Below is one more sofa look.
This leather sofa is made using the same back, base and cushion components as the other sofas pictured in this article.
Only the arms and legs are different.
The solid oak frame in this leather sofa is identical to the oak frame in the previous photo.